Our Brighter Smiles Medical Spa offers a Liquid Rhinoplasty procedure that effortlessly let's you say goodbye to bumps and asymmetry. Let us help you achieve a contoured and confident appearance.
Are you interested in enhancing the appearance of your nose but prefer a more affordable and less complicated option than traditional surgery? Look no further than the non-surgical rhinoplasty, also known as liquid rhinoplasty. This innovative procedure uses dermal fillers to change the shape and structure of the nose. Say goodbye to bumps and asymmetry and hello to a confident, contoured appearance. You can even opt for treatments to build up or lift the tip and bridge of your nose or correct a hump. The possibilities are endless! Trust us, a liquid rhinoplasty will leave you feeling amazing.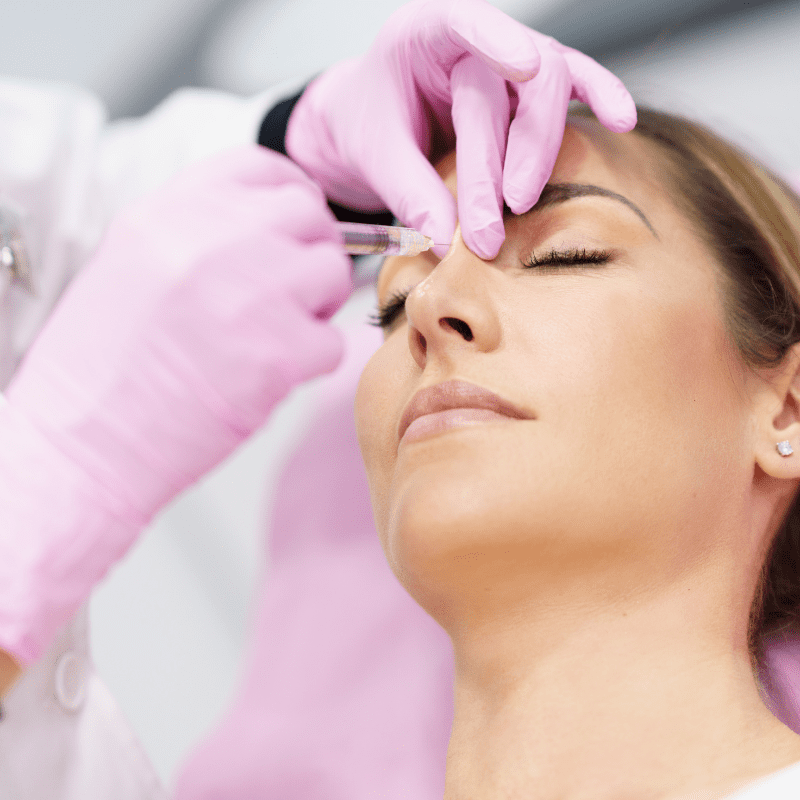 Frequently Asked Questions about our Liquid Rhinoplasty Treatments
What is involved in a Liquid Rhinoplasty?
Liquid rhinoplasty" is a minimally invasive procedure that involves thorough cleaning of the area first. A topical anesthetic is used to ensure your comfort, after which the treating nurse will use our bespoke technique to inject a series of fillers into the area to enhance your natural features. We prioritize your care, and you will receive full aftercare instructions following the procedure.

Your filler appointment at Brighter Smiles will last approximately 45 minutes, and you can promptly return to your usual activities once the injections are completed. We only use the most advanced range of hyaluronic acid dermal fillers available in the United States market, containing lidocaine to numb the treated areas during treatment and improve your overall experience. Our skilled injector will gently massage the fillers to soften the product and enhance your results. Rest assured that at Brighter Smiles Medical Spa and Laser Center of Eugene Oregon is that we remain dedicated to providing you with top-notch treatment and exceptional care.
Our team carefully considers each patient before deciding to provide treatment. It is important to note that we may not be able to treat individuals who are under the age of 18, experiencing active skin diseases, inflammation, or other skin-related issues.
Additionally, we do not treat pregnant or breastfeeding women or women trying to conceive a child, nor individuals with medical conditions that may compromise their immune system or those undergoing immunosuppressive therapy.
Patients who are currently taking Accutane may also not be suitable for treatment.
Please consult with our team to determine if you are a suitable candidate for treatment."
Our team is dedicated to ensuring that you receive the best possible treatment. We understand that everyone is unique, which is why we will work with you to customize your derma filler treatment journey. Our experts will guide you through the process, assess your individual needs, and recommend the perfect amount of product required for your nose. So, let's embark on this incredible journey together and achieve the perfect look you've always dreamed of!
Photos and Videos of Before and After Treatments.
Call us today for your free consultation. All you need to do is pick up your phone and give us a call at (541) 342-7483