Transform and enhance your lips with Restylane Kysse. Achieve a fuller, more youthful, and attractive pout with this innovative treatment effortlessly. Boost your confidence and radiance; don't settle for less. Experience the difference with Restylane Kysse today!
Restylane Kysse is a revolutionary product designed to enhance your natural beauty and promote confidence. Its innovative XpresHAn Technology™ provides you with the perfect balance of flexibility, support, and natural-looking results. With Restylane Kysse, you can maintain a full range of expressions while still achieving your desired look. You deserve to feel and look your best, and Restylane Kysse helps you achieve just that. It's time to show the world your natural radiance with a little help from our amazing product. Go on, dare to make a change and experience the wonderful benefits of Restylane Kysse today!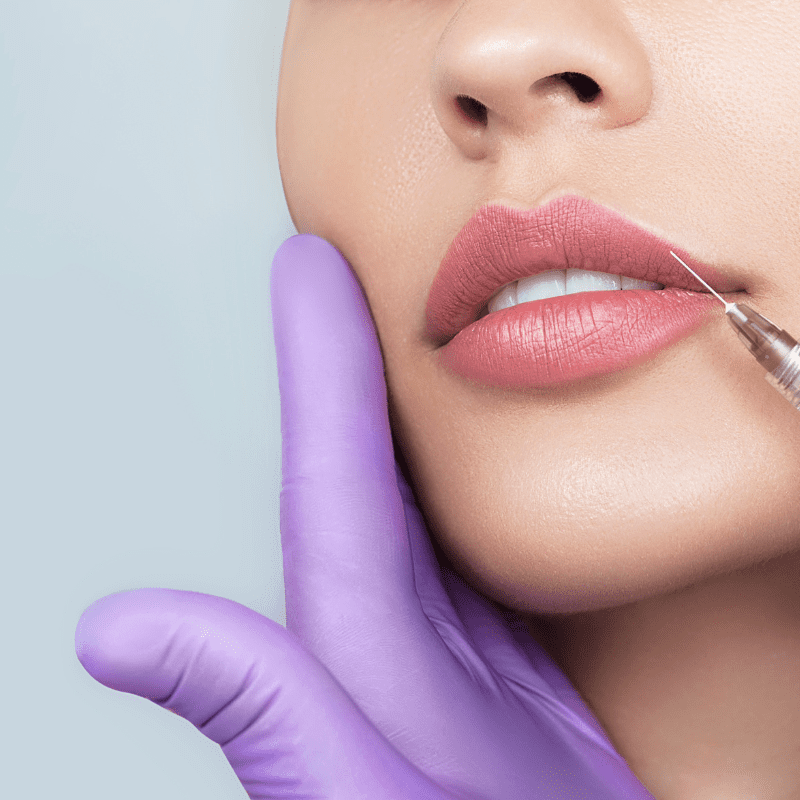 Frequently Asked Questions about our Restylane Kysse® Treatments
What are common lip filler looks?
Did you know that "Cupid's bow" lips is a popular term in aesthetics that refers to the double curve of the upper lip, resembling the bow of Cupid, the Roman god of love? Achieving a symmetrical pout can also be very important when it comes to creating a natural and aesthetically pleasing look. Sometimes, the volume of the lips is naturally asymmetrical, but that can be easily addressed with the use of fillers.

Speaking of fillers, Restylane Kysse is a great option for achieving natural-looking full lips. Its XpresHAn Technology™ enables it to move with each expression, providing a more natural-looking result. It's also clinically proven to enhance texture and color while maintaining a full range of facial expressions. Additionally, if you're concerned about perioral lines (also known as smoker's lines or barcode lines), fillers can be used to smooth them out too! Restylane-L, Restylane Silk, and Restylane Kysse are all designed to provide precise lip shaping and line control, resulting in a natural-looking outcome that perfectly suits your facial structure.
Restylane Kysse:

 Results from treatment with Restylane Kysse in the lips have been shown to last for up to 1 year.4,5
Here is the corrected text:

Here are some common side effects that may occur after treatment. These may include swelling, redness, pain, bruising, headache, tenderness, lump formation, itching at the injection site, and impaired hand function. It's important to note that these side effects are usually mild and subside within 7 days for nasolabial folds and 14 to 18 days for lips. The maximum prescribed dosage per treatment is 6 mL for moderate-to-severe facial wrinkles and folds. For correcting volume loss in hands, patients should receive 3 mL per hand per treatment. It's worth noting that swelling is more likely to occur in patients under the age of 36, while bruising is more common in patients above 35 years of age.
Restylane products are contraindicated in certain populations. Based on clinical studies and research, it is advised to avoid using Restylane products in pregnant or breastfeeding individuals and those under the age of 22. Additionally, individuals who have taken blood-thinning medications or who have clotting issues should avoid using Restylane products. Those with a severe allergy history, especially to gram-positive bacteria or drugs that have required hospital treatment, should also avoid the product. Individuals with known lidocaine allergies should not use Restylane products containing lidocaine, such as Restylane-L, Restylane Lyft, Restylane Silk, Restylane Kysse, Restylane Refyne, Restylane Defyne, and Restylane Contour. Restylane is the only product that does not contain lidocaine. As with any medical procedure, it is essential to consult with a healthcare provider to determine if using Restylane products is suitable for you.
Photos and Videos of Before and After Treatments.
Call us today for your free consultation. All you need to do is pick up your phone and give us a call at (541) 342-7483