Custom Fitted Night Guards
Custom fitted night guards are an essential solution to bruxism problems, and we're here to help. It's time to put an end to the discomfort and pain that come with grinding and clenching teeth.
Dental Services and Products
Get ready to take control of your dental health! This comprehensive guide is your key to better sleep and a more comfortable life. Custom dental nightguards are an essential solution to bruxism problems, and we're here to help. It's time to put an end to the discomfort and pain that come with grinding and clenching teeth. With our guide, you'll have all the information you need to make an informed decision about which type of nightguard is right for you. By taking the time to select a custom-made option, you're investing in your dental health and overall well-being. We believe in you, and we're here to support you every step of the way!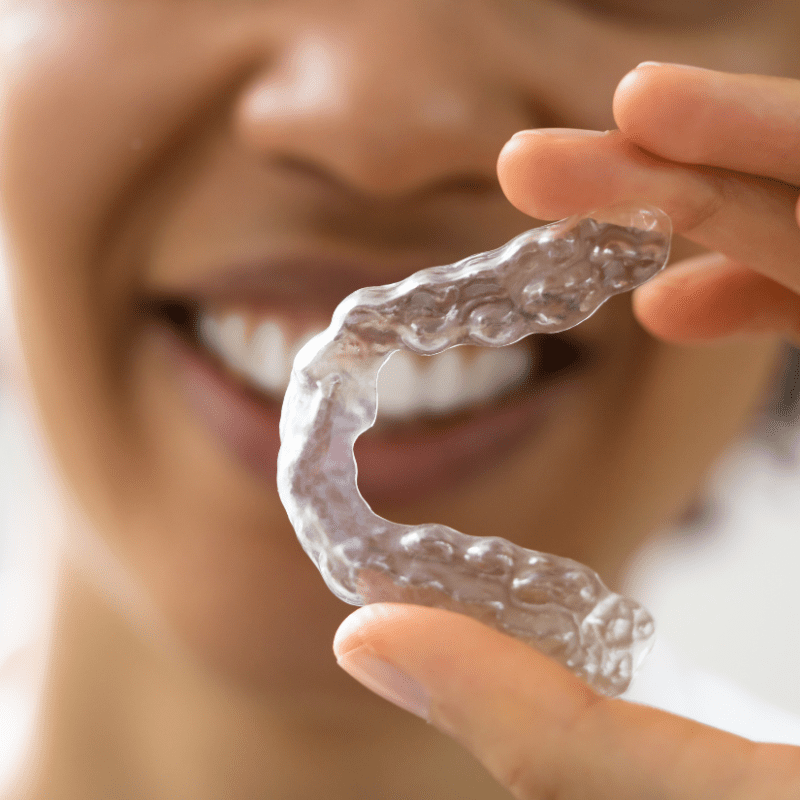 Frequently Asked Questions about our Signature In Office Custom Fitted Night Guards
Our Signature Handcrafted Dental Guards.
Brighter Smiles is the premier provider of comfortable, custom-fitted teeth whitening trays, night guards and sports guards in Eugene, Oregon. Nurse Heidi has been helping clients for over three decades by handcrafting their mouthguards individually. Our state-of-the-art med spa and laser center sets us apart from other dental businesses, making each night guard and sports guard in-house. We take pride in providing personalized care and attention to each client. We are different from other dentists and online dental businesses that outsource their guard orders; we create your custom-fitted night guard and sports guard on-site in our lab.
Additionally, our teeth whitening trays and sports guards are handcrafted in-house. Our affordable pricing is unmatched, and our clients rave about the high level of comfort and customization of our night guards and sports guards. Contact us today to learn more!
Custom Fitted Night Guards Q & A
You can buy three types of mouthguards: stock guards, boil and bite guards, and custom dental night guards.
Stock guards are cheap but not very comfortable and don't protect your teeth very well.
Boil and bite guards are slightly more expensive and can be customized a little bit, but they still don't fit very well and need to be replaced often.
Custom Fitted guards The best kind of mouthguard is the custom dental night guard because it is made just for your mouth and protects your teeth the most. You can buy them online or from a dentist's office. Online ones cost between $160 and $200, while ones from a dentist can cost between $400 and $800. Or you can schedule an appointment with us and come info our Med Spa and Laser Center for a fitting and will make it for you within a few hours. Our price and turn around time is less than what you will find online. Connect with us today by calling us. 
Night guards are the unsung heroes of dental health! They tirelessly protect your teeth from nighttime grinding and clenching, ensuring your smile stays healthy and beautiful. Our specially designed night guards even include opposing grooves to secure a natural resting bite and reduce damage further while you sleep. By using a Brighter Smile Custom Fitted Night Guard, you're taking a proactive step towards preventing future dental work and protecting your precious teeth.
Bruxism is a common problem affecting at least 10% of the population. Teeth grinding can happen during the day or night and could prove challenging to stop because it often occurs unconsciously. The side effects of bruxism can be painful, such as jaw soreness and joint pain, worn enamel, cracked teeth, tension headaches, earaches, facial pain, and fatigue. Although researchers and dental experts are unsure, stress appears to be the primary cause of bruxism. Other factors contributing to teeth grinding include smoking, genetic predisposition, alcohol, certain medications, and sleep disorders like sleep apnea. Fortunately, most bruxers find relief from wearing mouth guards.
Photos and Videos of Before and After Treatments.
Call us today for your free consultation. All you need to do is pick up your phone and give us a call at (541) 342-7483