Kybella is an FDA-approved injectable treatment designed to eliminate submental fullness, also known as a double chin.
Sometimes, we can get pockets of fat in various areas of the body that many people wish would disappear. Created by Allergan®, the company behind Botox, Kybella© is the first and only injectable to target fat, and minimize it.
Many areas of the body are treatable, from a 'double chin', to fatty areas around the bra, inner thighs, and more! Talk to our cosmetic injector at your free consultation to see if Kybella© is right for you!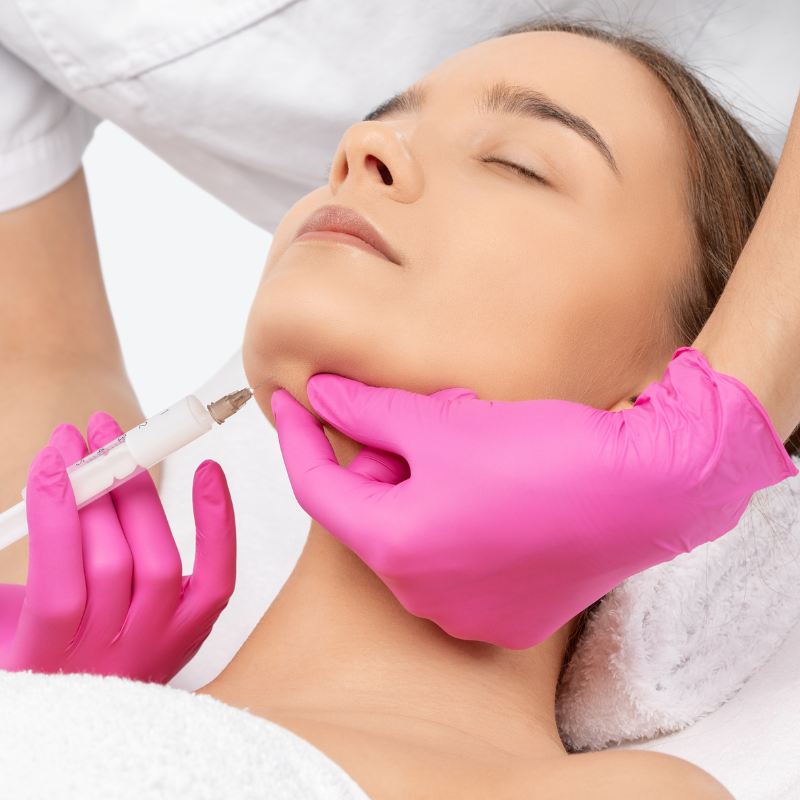 Frequently Asked Questions about our KYBELLA®Treatments
The Perk of having KYBELLA®Treatments
Did you know that KYBELLA® contains a natural molecule called synthetic deoxycholic acid? This molecule is found in the body and helps to break down and absorb dietary fat. KYBELLA® uses this ingredient to reduce fullness under the chin by destroying fat cells. The best part? Once the fat cells are destroyed, they won't be able to store or accumulate fat, so you won't need an additional treatment once you reach your desired results. Pretty cool, right?
Kybella is a injectable treatment that melts away the excess fat that causes double chins. The substance is a man-made form of deoxycholic acid, a naturally occurring material that helps the body absorb fat. Double chins can be a pesky problem area. Still, with Kybella, you can destroy the fat cells contributing to this unflattering phenomenon.
You are not alone if you've tried every diet and exercise plan imaginable but still struggle with unwanted neck and chin fat. Many people who eat healthy and have no problem toning their arms, legs, and abs still find it difficult to eradicate the fat around their submental area. This low-hanging, fleshy region is often called a "double chin."
With Kybella, you can eliminate the need for liposuction or other invasive fat-elimination techniques. Instead, through a series of injections, Kybella mimics the body's natural fat-absorption process and leaves you with a sleek and slim chin area that's picture-perfect.
 KYBELLA® is FDA-approved
No anesthesia or surgery required
Fat cells are destroyed for good.
Fast and efficient treatment sessions
Patients may appear younger and thinner
May eliminate the embarrassment caused by a double chin
Photos and Videos of Before and After Treatments.
Call us today for your free consultation. All you need to do is pick up your phone and give us a call at (541) 342-7483