Airbrush Tanning Services
Our Signature Airbrush Spray Tanning Skills are legend. We include custom-mixed color for each unique client.
Airbrush Tanning Services
Airbrush Tanning has evolved and we are experts in color and technique.  We you arrive, we will take you to a private room, and airbrush/spray you with a spray containing DHA which is a sugar cane based color. In less than 15 minutes, you will walk out with a beautiful, golden brown tan!! In addition to only needing one session for an airbrush spray tan to achieve desired results, airbrush spray tanning offers custom-mixed color for each client.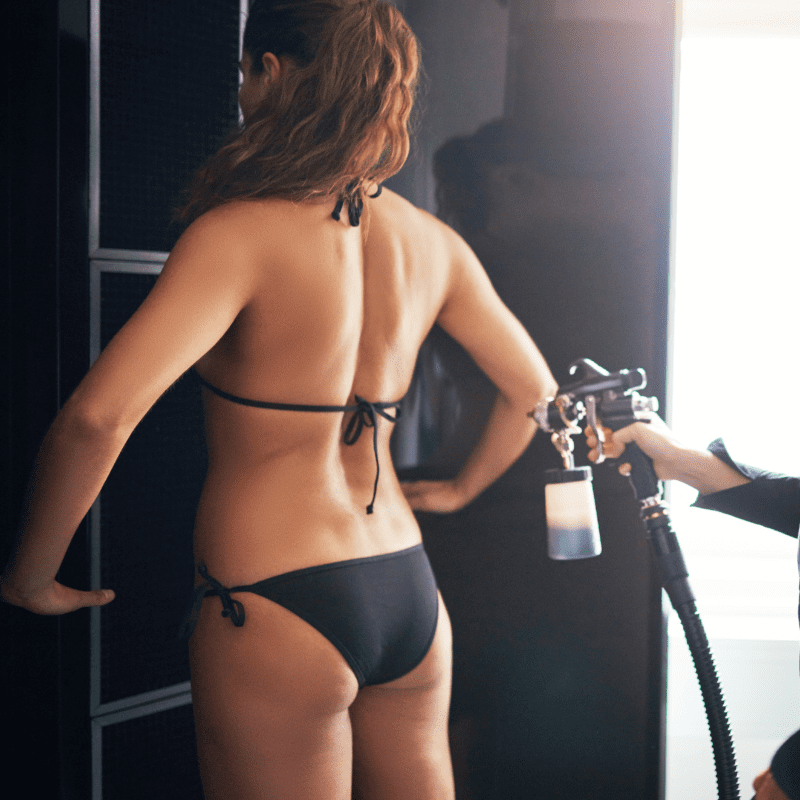 Frequently Asked Questions about our Airbrush Tanning Service
How Brighter Smiles Color Specialist is different from using a walk in booth.
Our Specialist is applying the spray tan, so you will not have any missed areas or blotchiness. The spray tan is being applied precisely on the body, not randomly as with the booth. This results in a flawless tan without orange spots or stripes, unlike the booth.
Who doesn't want a natural, beautiful tan that lasts a week or more and doesn't look like you were shot with orange or brown paint? Even better is a tan that doesn't damage the skin, causing sunspots, premature aging, or skin cancer. Airbrush tanning offers a seamless tan that looks natural and is safe to use regularly. Many people think airbrush tanning and spray tanning are the same thing, but they are very different.
Spray tanning can trend orange in many cases and often results in streaks. One achieves this "tan" by stepping into a spray tanning booth where an automated machine sprays the person down from head to toe. The fumes can be pretty intense. Spray tanning booths typically offer one type of tanning solution for every skin type, which is a problem for anyone looking for a custom tan. In the spray tanning booth, the person inside needs to flail their arms and legs around to try and get an evenly coated tan with not enough tanning solution or enough time to cover the entire body adequately. It takes up to three sessions to get an even tan (which is too dark in color) compared to one session for an airbrush tan.
Frequently Asked Questions about our SkinCeuticals® Treatments.
Photos and Videos of Before and After Treatments.
Call us today for your free consultation. All you need to do is pick up your phone and give us a call at (541) 342-7483